Background
In Nepal, examinations of various levels were halted after the announcement of Lockdown from 10th of Chaitra, 2076 by the Covid19 response committee. In fact, the decision making was severely criticized for the nature of timing in taking the decision. Students who traveled to take exams were left stranded in various locations throughout the nation.
It was 18th of March, 2020, the day GoN, Ministry of Education decided to take the decision to discontinue the upcoming as well as examinations under operation. Today (The day I am writing this article is 30th of June, 2020), it is not hard to observe the lack of efficacy in decision-making.
Before going any further with my arguments, I would like to reiterate the identity of Tribhuwan University. It is the oldest university of Nepal offering 2,079 undergraduate and 2,000 postgraduate programs across a wide range of disciplines and among the largest universities in the world in terms of the number of students.
Lockdown and questions
We understand that every single student is not precocious but the unusual times demand unusual decisions. The timeline of decisions taken by Tribhuwan University has been far more appalling than the lockdown itself. The fecklessness of the concerned authorities has added redundant pressure to students and parents.
Considering the fact that Tribhuwan University has Memorandum of Understanding with numerous educational elites of developed nations, taking an initiative towards the possible alternatives are yet to be acknowledged by the feverishly erudite ones.
My questions today are, what if this goes forward to take 3 more months? Who is going to be responsible for the loss of time and most importantly career to the same batch of students from inside Nepal i.e. KU and students who study abroad? Are Nepali students or TU students meant to be on the backseat like always? Why does it feel like officials are more disposed to traditional methods? Is not this the right time to promulgate the online version of the university?
But, carrying the experience of a constituent engineering campus, I feel shameful to reveal the level of an engineering institution. The reality that an engineering institution still publishes paper-based results alone with no online database to check back and to add more, makes the students of constituent campuses wait for 3-4 days in today's date for a mark sheet. At the same time, it takes around a month and a half to get the transcript of your attained degree from the university.
I strongly believe taking online examinations or having an alternative for their level of commitment from the above instance is like making a sky crapper overnight.
Need of Paradigm Shift
Some headlines to begin with :
Maharashtra Cancels Final Year University Exams Over Spiralling COVID Cases

The higher and technical education department announced that the final year exams for non-professional and professional courses across all the 14 universities will now be optional.

NDTV NEWS
Covid-19: Exam cancellation for final year students

"Students who are not happy with the final marks being given to them based on previous examinations, can be given a chance to improvise their scores by taking examinations later when the pandemic subsides," a senior official said.

TIMES OF INDIA
I always have a belief that the sense of right or wrong is more about your perception of things. University officials have stuck themselves into that Status Quo scenario. It is better for them and for all that they do not fall into an estimating trap.
It is obviously an assiduous task to change the traditional examination scenario considering the available infrastructure. But, as it is said, "problems are door to opportunities". This can be a golden chance to materialize the goal of digitizing education and convince the government to exploit the much-needed fund and resources. Lest this state of abeyance due to COVID 19 may continue to eternity.
Given, the surge in the number of Covid19 infected patients (13,564 as of 1st of July, 2020), the need for alacrity in undertaking a backup option seems the obvious need of time. Meanwhile, when arguing in favor of alternatives to examinations, the competence of students studying abroad is equally questionable. Almost all universities throughout the globe have either gone through an evaluation scheme or a sort of online examination. Our dormant behavior will take us nowhere.
It has been almost 4 months of discrete indecisiveness. Are we meant to stay like this forever? Who will bear the compensation of irrevocable loss in mental health? What about those suicide cases that surged in the country during the lockdown?
Meanwhile, before presenting an alternative, I would like to make a clear point over here that we have various accreditation bodies to check the competence of doctors, engineers, nurses, and other crucial human resources. For instance, the Nepal Medical council takes the examination for a license. Likewise, a license examination for engineers has also been proposed. CA graduates have to go through some sort of test before they are eligible to exercise in the real field.
We cannot continuously turn a blind eye to the uncertainty of the pandemic. The preparation of Tribhuwan University stills seems to have jabbed in creating email accounts and Microsoft teams. I tend to hold a belief that more could have been done and more should have been done to break free out of this situation. It is not as easy as ABC to sit at home and wait for an uncertain exam when the university (IOE to be specific) has a failed set of A, B, C, D, E, and F strategies.
Possible Alternatives
The university should haste towards apprising the students in the issues related to examinations as soon as possible.
Subject wise – Case Studies (Maybe something that takes time and helps the examiner to determine the students' level of understanding )
The online form of Objective exam questions ( Subjective exams may not be applied considering the accessibility to computers and computer skills )
Subject wise – Assignments
Evaluation based on Internal Assessments ( If fair enough )
Evaluation based on the teacher's level of understanding of student's abilities. ( I repeat difficult times demands unusual decisions )
Evaluation of final year students based on academic progress in the previous semesters.
Optional real examination for those who are out of internet access or for the ones who don't want to take online exams ( We should be able to let the ones able to take exams online go for it. We cannot wait for the entire 100% to be able to take exams in the pre-lockdown scenario )
Physically distanced exams with the increase in exam centers (May not be economical and may not be applicable considering the fact that many students have returned their homes. But, can be done wherever applicable. )
Online real-time viva on the subject to be evaluated ( This is all about a paradigm shift, open textbooks exams are getting famous and online exams are practiced in many countries )
Here is a list of things that can be done except paper-based examinations.
Tribhuwan University : 61st Anniversary
Students are barred from taking exams while a hall this small (as shown in the picture below) seems to be accomodating more than 50 people. I am no one to elaborate on the importance of conducting this occasion in this fashion but, I can ask why can't 50 people sit in the exam hall like this? This is to say, taking examinations with necessary precautions.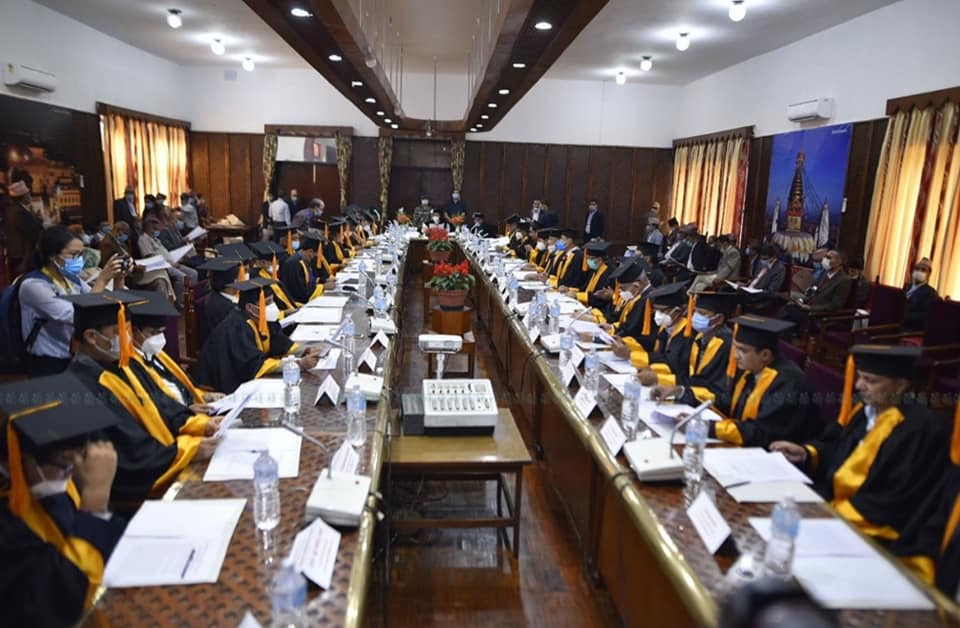 All in all, TU needs to up its sleeve and make the best out of this scenario to give students an alternative and hence, peace of mind. I am not an education expert, but, to be honest, no one is behaving like they are.